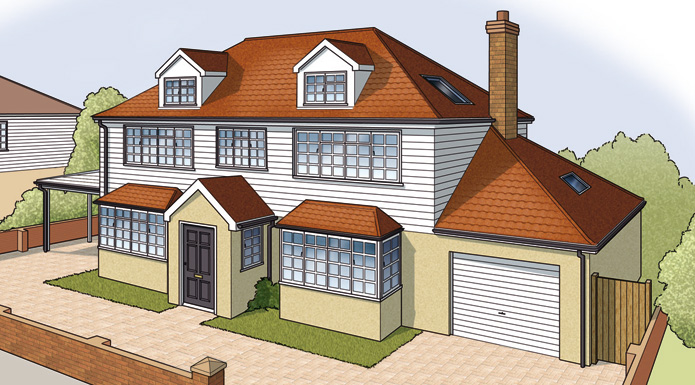 Adding a conservatory onto your home can transform many things – the value of the home will be substantially increased, the look of the house will be enhanced, and you will have more space in which to enjoy your home. A conservatory can be a sun trap during the cooler months and may be where you spend most of your time. It's a great way to feel as though you're outside in the garden no matter what the weather or temperatures are. This extra room can sometimes make you feel as though you're having a camping experience as you can sit and gaze up at a star-filled sky, and yet still be inside your home.
Building on a conservatory
No matter what design you choose, this work will require a qualified builder and planning permission will be needed. Although the conservatory is not as heavy as a brick-built house, it will still need substantial foundations to anchor it, and the roof should be able to cope with all different weather conditions, including heavy snow. Apart from choosing the size and design type of your conservatory you will also need to select the flooring, the type of ceiling and lighting you want, and the colour that you would like it painted. Some will choose glass roofs for maximum light exposure, and it's even possible now to get self-cleaning glass that will make caring for your conservatory much easier. Climate control will also be something you should consider. You may choose double-glazing for your conservatory but could still find that you need extra heat in winter and cooling in summer. The original idea of building conservatories was to grow tropical plants, so the effect of all the glass can produce extreme heat on a mid-summer's day.
Choosing the unique design to match your home
You can select a traditional conservatory such as a square Edwardian structure, or even go for a gable front where the pitch of the conservatory can be aligned with your home's gable as well. There are many other styles such as the gullwing which, as the name implies, has two extra wings to the side for extra space. If your home is more traditional, you might like to select a Victorian design that provides a full curve to the conservatory. The number of doors and windows can also be decided on depending on your lifestyle and the use of the room. You can click here to get more details.
Some people will want to have an entirely individualistic conservatory that enhances the design of their home, and will work with a designer to draw up a bespoke plan. No matter what you choose, it's a good idea to partner with a local building company that can ensure that after-sales service and maintenance on the conservatory is guaranteed. Some companies will provide a ten year guarantee and this will ensure many years of no-cost maintenance to your new addition.
Conservatories in Gravesend add glamour and comfort to your home. Deaves & Company Home Improvements in Gravesend can be contacted for advice and a quotation to help you get the job done.